Sale!
Hitachi 410 Litres Stylish Bottom Freezer RBG410PUK6XXGR Glass Black
Hitachi
Model: RBG410PUK6XXGR|  Glass Black
Gross Capacity:  410 Litres
Net Capacity: 320 Litres| Fridge: 215 Ltrs |Freezer: 105 Ltrs
Cooling System: Inverter Dual Fan Cooling | Refrigerant: R600a
Touch Screen Controller| Tempered Glass Shelves

Eco Thermo-sensor |

Elegant Bottle and Wine Shelf
Quick Freezing | Selectable Mode Compartment
Ice Tray | Vegetable Compartment Adjustable Door Pockets
Power Supply:  220-240V |  50Hz
Product Dimension (W x H x D):  59.5 x 190.0 x 65.0 cm.

Packing Weight:  78 kg

100% Genuine
4 in stock
Estimated delivery by: 30/05/2022
Description
From Hitachi

INVERTER
Compact but high power inverter compressor capable of providing exceptionally powerful cooling by generating a large volume of chilled air, while adjusting cooling power. Also providing efficient low power cooling with microcomputer control, Eco Thermo Sensor.
Quiet Operation
R-600a Eco-Friendly Refrigerant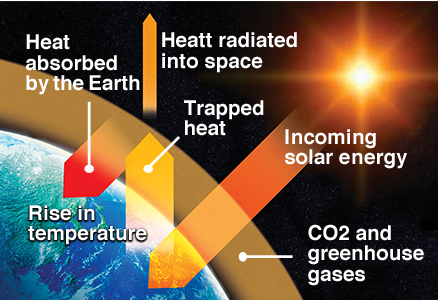 Dual Fan Cooling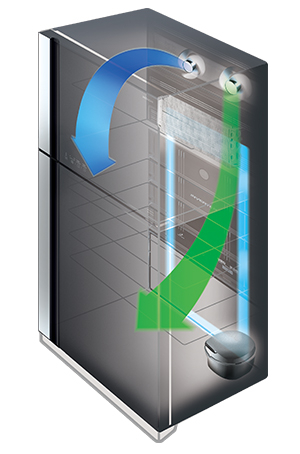 It enables independent cooling of the freezer and refrigerator compartments, something a single fan can't do. Using two fans, it also quickly and effectively circulates the cold air provided by powerful inverter operation.
Super Energy Saving
Controlling how much and to which compartment chilled air is delivered, it assures no wasted energy acquired world top class energy saving ratings.
Powerful Cooling
Even if the ambient temperature reaches as high as 60°C, every corner inside of the refrigerator is still thoroughly cooled.
*Tested by Hitachi. Test conditions: Ambient temperature of 60°C and stable interior conditions without opening or closing the door.
Stabilizer Free
Cools under wide voltage fluctuation 130V-300V.*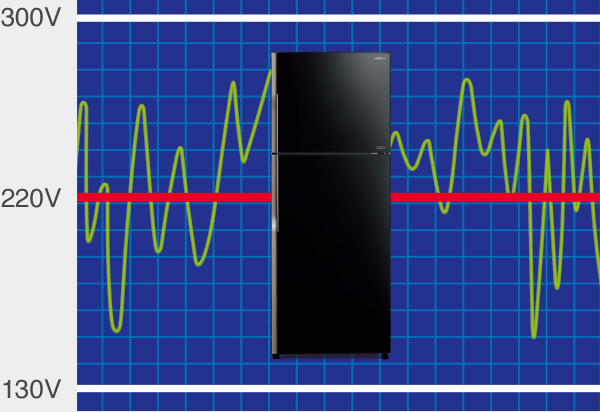 *Tested by Hitachi. Operating condition may differ depending on situations.
Cooling Retention 12 hours
The high heat insulation performance thanks to VIP even during power cut.
**Tested by Hitachi
Hybrid Freezing Case
Delicious Cooking Results
Thanks to the aluminum plate, items freeze rapidly. As well as retaining freshness, rapid freezing reduces drip during thawing, so flavor is also retained. It brings delicious cooking results!
Minimal drip
0.24g / 100g
Large amount of drip
0.57g / 100g
*Comparison of the amount of drip released 4 hours after thawing from items frozen for 3 days.
Easy Access Case
Efficient Storage
The top of the freezer compartment is open so that you can reach items directly.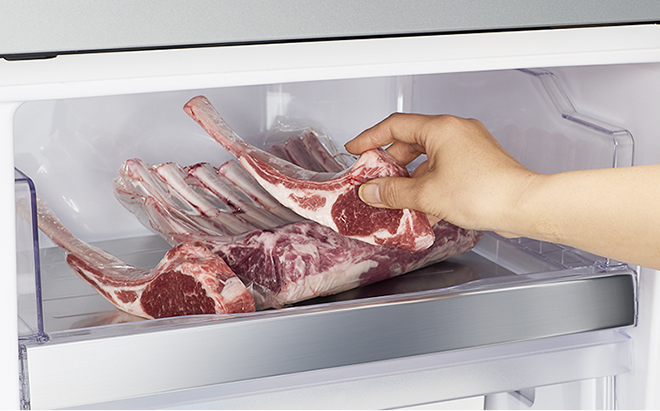 What's the Advantage of Hybrid Freezing?
When meat and other food are frozen in the conventional way, water inside the cells freezes into large ice crystals which destroy the cell walls resulting in a large amount of drip when items are thawed. This is a major cause of loss of flavor. If food items rapidly pass through the temperature zone between -1°C and -5°C, ice crystals are kept small to minimize damage to cell wells and retain flavor.
*This figure is for illustrative purpose only
Easy Storage of Big Items
Bigger-sized frozen foods or compartments can be easily stored in this specially designed deep & large freezer case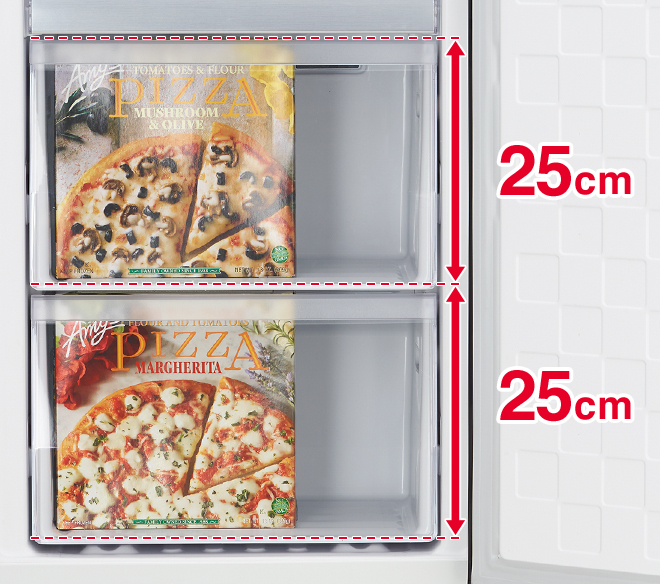 Slide Shelf
Easy Access and Storage of Items at the Back
Slide shelf makes it easier to see and reach items at the back to enable efficient, organized storage.

Selectable Mode Compartment
Flexible Layout
The Select Lever lets you adjust the temperature in each compartment by switching between the Vegetable and Dairy/Meat modes.

Vegetable Compartment
Ensures indirect cooling to maintain the optimum moisture level for vegetables.
*Tested by Hitachi. Differs depending on the amount and type of vegetables.
Adjustable Door Pockets
You can change the pocket layout to match the items being stored.
Bottom Pocket
Convenient medium-size pocket for storing 0.5L bottles.
Touch Screen Controller
Flat glass panel controls let you change the settings with a simple touch. And a wipe is all it takes to clean the tempered glass surface.
Elegant Bottle and Wine Shelf
The wavy shelf holds bottles at the optimum angle for storing premium wines and also large enough for 1.5L bottles.
Additional information
| | |
| --- | --- |
| Department | Refridgerator |
| Product Brands | |
| Fridge Type | Bottom Freezer |
| Gross Capacity | 401 To 500 Litres |
| Color | |